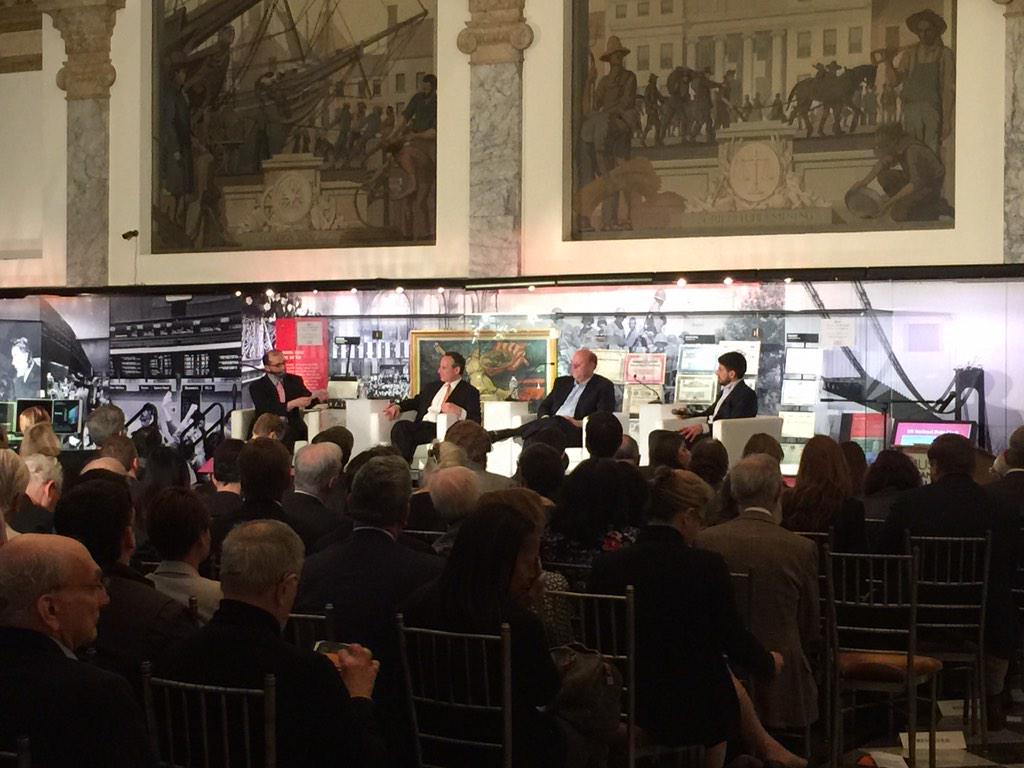 On Wednesday night, Feb. 11, we were part of a special night at the Museum of American Finance on Wall Street, a discussion on digital currency and the future of finance featuring former Treasury Secretary Lawrence Summers that took a look at the ways in which bitcoin and cryptocurrencies are going to effect, and be absorbed and adapted by, the financial system.
Nearly 300 people (the event sold out very quickly) filled the museum's main exhibition hall to hear Summers, us, and a panel of experts talk about the future of finance, and digital currency's place in that future.
The museum occupies the old Bank of New York headquarters, a grand old Greek revival building on the corner of Wall and Williams street, a block away from Federal Hall and the New York Stock Exchange. That location and history made for a dramatic backdrop to what was decidedly a 21st century night of questions and discussions.
The media coverage ranged from the mainstream New York Times, which took a very straightforward angle with this write-up of Summers' comments, to this decidedly cynical take from Animal New York. "On Wednesday night, the Establishment wasn't afraid," Peter Yeh wrote. "It was excited. Its members swarmed the CEOs after the panel ended to exchange business cards. Nothing is more traditional finance than that."
There was something to that take. This was one of the first times, if not the first, that the upstart cryptocurrency world met the staid traditional finance world on its own turf, and engaged it on its own terms. The night was less about disruption and more about evolution, and it seemed to us at least that at some point soon, there's going to be something in the museum to represent bitcoin, something that extends the line of history just one step further.